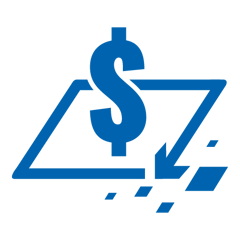 Cloud-based ransomware
Imagine a situation where an administrator at your cloud provider is tricked into executing a script that encrypts all of your Microshard™ data stored with that provider. What then? We automatically roll back the encrypted files to their previous state, that's what. And your business continues operating as if nothing happened.
Our Microshard technology looks for and detects unauthorized changes to your Microshard data between writes to and reads from storage. If any kind of modification, including encryption, or deletion is detected, the original version of that Microshard data is restored.
Secure Cloud Migration
Accelerate your journey to the cloud and move data to, from and between on-premises locations and cloud providers knowing the risks associated with exposure have been mitigated with Microshard technology. Mircoshard technology eliminates the sensitivity and value of data, ensuring it's protected prior to, in transit to, and at rest on your systems.

ShardSecure helps advance your digital transformation initiatives knowing you're protected from common pitfalls like configuration errors and malicious attack, so you can embrace the true agility and cost benefits of a cloud or hybrid infrastructure.
rogue/compromised admin accounts
Cloud and storage administrator accounts are popular targets for malicious actors due to their high level of access to your data. If these accounts are compromised, your and your customers' data is at risk of data leaks, data corruption, deletion, ransomware, and more.
Because microsharding shreds, mixes, and distributes your data across multiple storage locations, unauthorized access to a given storage location only returns an unintelligible portion of the data. The level of complexity to identify all portions of a given file and reassemble the data makes it virtually impossible for an unauthorized user to derive any value from Microshard data.
SPLUNK
Leverage the popular Splunk platform for ingesting, searching and visualizing data while mitigating the risks of a data breach or accidental exposure. While encrypting remote Splunk data storage is recommended, it is not always an easy task, and the complexity level goes up depending upon the quantity of Splunk servers and the type of key management solution used.

A ShardSecure cluster with S3-compatible API for file storage and retrieval is easily configured in Splunk as the remote data storage location. This helps to ensure data sensitivity is eliminated, and that data contains no value and remains incomplete, protecting your organization in the event of exposure.
database
Databases are a prime target for attackers because they often hold sensitive information, but data at rest in your SQL and NoSQL databases can be reliably secured with Microshard™ technology. ShardSecure's Microshard solution sits between your database server and storage, shredding, mixing and distributing your data to eliminate sensitive information at rest. This helps to mitigate the risk of accidental exposure or breach from threat actors and insider threats.
SOURCE CODE and intellectual property
Intellectual property, like source code, is the lifeblood of every company. Microshard technology ensures sensitive code no longer resides on traditional Git server storage. Instead, data is shredded to eliminate data sensitivity, mixed and poisoned to eliminate any value to unauthorized users, and then distributed to multiple storage locations to ensure it is incomplete at rest. This significantly reduces the attack surface, adds considerable friction for would-be attackers, and mitigates the risk of accidental exposure by eliminating the sensitivity and value of the code.

All software code files, in Microshard form, that are called to be reassembled are checked for file integrity. If there are changes made to the Microshard data at rest, which contains code, we simply restore the data to its last known good state. There are no changes to Gitlab (or Github, Bitbucket) administration and the technology is transparent to developers.
Streaming iot data and cctv VIDEO
From CCTV to connected devices in homes and offices, the quantity of streaming data organizations are tasked with securing is increasing astronomically. ShardSecure's ability to support streaming data and video is a key advantage that many legacy data security organizations do not yet offer. While many solutions operate at a "file level," waiting until an entire file has been transferred before fragmenting (write) or reassembling (read), this has two obvious disadvantages. First, latency would be huge on large files, creating unacceptable performance. Second, some applications, such as databases and logging systems, open a file and rarely close it. ShardSecure designed our solution with an emphasis on supporting streaming data so organizations can implement a security strategy agile enough for today's technology landscape.
SECURING DATA BACKUP
Server backups often hold sensitive information, in structured or unstructured formats. Microshard technology integrates easily with your existing backup solutions to augment the security of backup data by eliminating sensitivity, and can potentially speed up backup and restore operations through the use of parallel reads and writes when time is critical.

Sensitive data in PDFs, documents, spreadsheets, images, and more is often and easily overlooked and therefore not adequately secured. Microsharding provides an easy and fast way to protect this unstructured and unclassified data, ensuring privacy of data whether it resides on file servers or cloud-based applications like Microsoft 365, Salesforce, ServiceNow or Slack.
data privacy and compliance
ShardSecure significantly reduces the sensitivity of data, providing key benefits from a regulatory standpoint. Regulations such as GDPR, HIPAA, CCPA, CPRA, VCDPA, CPA, and PCI DSS can be costly to comply with and even more expensive if not upheld. Microshard technology shreds, mixes, and distributes data, reducing the obligations arising under these regulations. In addition, bad actors would be unable to access or extract a full credit card number or Social Security number, reducing the risk of a reportable security incident.

As a result, ShardSecure reduces companies' data protection burden and the cost of compliance, making it easier to store larger quantities of data, knowing they are not multiplying the attack surface or risk exposure by doing so. Microshard helps reduce the scope of the regulated information system environment, reducing assessment scope, and improving outcomes.
In our opinion, microsharded sensitive data is no longer sensitive. As a result, ShardSecure has the potential to lower cyber risks and compliance costs while maintaining compliance with the spirit of European and US data protection regulations.